25th September 2019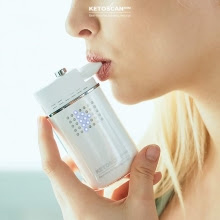 AlcoDigital – the UK's leading supplier of breathalysers – has announced the launch of the world's first cartridge-based, real-time fat burning monitoring device to the UK market – the Ketoscan Mini.
The pocket-sized device, which is ideal for optimising diet plans and exercise programmes, including the keto diet, works by measuring the concentration of ketones (acetone) in exhaled breath. Readings are provided on an easy-to-read LED display, indicating the speed at which the body is burning fat and allowing users to perfect and personalise food and exercise plans.
Unlike other ketone-measuring methods, which can be painful, costly and/or inaccurate, the Ketoscan Mini is a convenient, highly accurate and cutting edge solution to ketone testing. Portable, hygienic and rechargeable, it is the ideal solution for anyone trying to lose weight or athletes who want to avoid burning fat too fast.
Bluetooth connectivity means the Ketoscan Mini can be linked to the Ketoscan mobile app and it also syncs with iOS Health, Google Fit and Samsung Health. Readings are tracked instantly, allowing users to monitor progress and perfect nutrition and exercise plans.
Currently, no other portable ketone analysers offer the same accuracy, features or functionality as the Ketoscan Mini.
Suzannah Robin, Director of AlcoDigital –  the sole distributors of Ketoscan Mini in the UK – said:
"With the rapid increase in the popularity of the keto diet, the Ketoscan Mini will help those new to the keto diet, or those already following a keto lifestyle, along with athletes, to enhance and personalise their diet plans and exercise programmes to ensure they are achieving the best possible ketosis state for their needs."
The Ketoscan Mini will retail at £179 and is available to pre-order for UK delivery from 30th September .
For every pre-order made on or before 29th September, purchasers will receive a FREE cartridge change service voucher worth £39. All pre-orders are fully refundable before dispatch.
The Ketoscan Mini provides 300 tests per cartridge (less than 13p per test). The device will automatically issue a warning notification when cartridges are 20 tests from expiry. Cartridge change services will be available from AlcoDigital at a cost of £39.
To find out more, view the video at www.ketoscanmini.co.uk/video/.