5th July 2017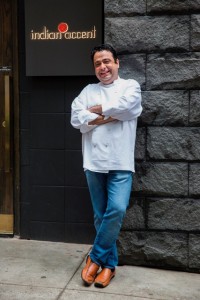 Manish Mehotra
Indian Accent, the "inventive" Indian restaurant concept owned by Old World Hospitality, is to make its UK debut this autumn.  The restaurant will open in London's Albemarle Street, on a site previously occupied by Old World Hospitality's other restaurant, Chor Bizarre, for 20 years.
The new restaurant echoes Indian Accent's venues in New Delhi and New York. Indian Accent's menu has been designed by group chef Manish Mehrotra and combines "home-style nostalgic cooking using unusual ingredients" from around the world.  The restaurant's decor will feature "reimagined" materials familiar in Indian architecture; brass, marble and plaster. Combed pearl-lustred plastered walls, used at Indian Accent's other venues, will also be featured.
Private dining will be offered on the lower ground floor.
Old World Hospitality founder and Rohit Khattar said: "The decision to close Chor Bizarre was hard. However, it did need major refurbishment after so long and, while we were looking for a home for Indian Accent, we realised there was no space more perfect. We hope London embraces Indian Accent as warmly as New York has."