19th May 2016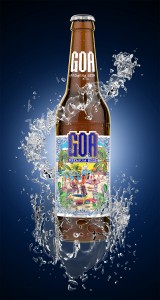 Viiking Ventures is now importing gluten  free Goa Premium Beer in to the UK
Goa Premium Beer, with a 4.8ABV available in 340ml and 650ml bottles and 500ml cans, is distributed by Viking Ventures UK. Using a unique malt and maize based recipe, the beer is gluten free and endorsed by the Celiac UK charity.
Marketing will be under the 'Come Alive' theme embracing the hedonism of the beach party offered by Goa Premium Beer. The packaging is inspired by the Portuguese 'azeljos' art form of Arabic origin that is now widely seen in Goan churches and homes.
Located in south west Indian on the Arabian Sea coast. Goa is famous for its beaches and attracts tourists from across the globe, with many discovering excellent Goa Beers, which have not been read available in the UK until now.
"The healthy living agenda has been usurped by po face kill joys with their arbitrary '5-a-day' quotas and misinformation about fats and caffeine," said Viiking Ventures director Frank Sequeira, adding, "Here's a gluten free product which is fun."
Previously, Sequeira spent 15 years as head of restaurant sales at Kingfisher Beer Europe.
The humid, tropical Goan weather works its alchemy on the water, to give Goa Premium Beer its crisp, refreshing flavour.
Commenting on its taste, Peter Grove, founder of National Curry Week said, "Goa Premium Beer at last offers curry fans a drink to go with their spicy offering that actually is imported from India unlike the other main brands. The malt taste comes through clearly when enjoyed alongside a spicy curry and as a stand alone drink."
During a recent Asian Catering Federation road show, which addressed the hygiene and nutrition issues, leading nutritionist Ruth Tongue, Msc, told delegates that 22% of the public claim to have a food allergy or intolerance and that gluten free diets are becoming mainstream, with 15% of the population already avoiding food with gluten.
"Although interest from Indian restaurateurs has been considerable, we are looking to establish Goa Premium Beer as a 'world' product and introduce it to a diverse variety of leading restaurants and top destination pubs, bars and hotels," said Sequeira.
History
Although rice and millet beers had been brewed in India long before the arrival of Europeans, British-style beer was introduced in India by the East India Company around 1716.  To protect the beer from spoiling during the long sea voyage it needed a high alcohol and hops content. India Pale Ale (IPA) was created about 1787 and became popular in England around 1840.
Portuguese colonists were lured by the weather to relocate their capital from Calicut to Goa, where they ruled for 450 years until it was annexed by India in 1961.
It was Portuguese who introduced many of the foods and spices (including chilli, cardamom, mango, tomatoes, and potatoes) now commonly associated with Indian cooking, to the sub continent from the Americas.
Viiking Ventures is part of JMJ Industries, a large conglomerate with various business verticals such as FMCG products, hospitality, entertainment, property, infrastructure, paper products and philanthropic activities.  The company's own and founder is 'Tollywood' actor and film producer, Sachiin Joshi.
Viiking Ventures UK Ltd, 42 Upper Berkeley Street, London W1 5PW
T:  0203 752 6737 Tw @GoaBeerUK E:  info@viikinghventures.co.uk