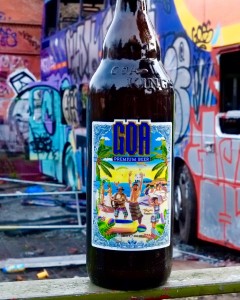 20th March 2017
Viiking Ventures UK, the exclusive importer of Goa Indian Craft Beer, is to sponsor Action Against Hunger's invitation-only Love Food Give Food event at Cinnamon Kitchen on Monday 27th March.
The networking event, being hosted in the Anise Bar at the Devonshire Square restaurant in the City of London, led by executive Chef Vivek Singh. The evening, being hosted to thank the charity's supporters, will be attended by leading members of the UK's restaurant and hospitality sector, including restaurateurs, chefs, publicans, investors, critics plus other tastemakers and influencers.
The event, is the culmination of Action Against Hunger's fund-raising campaign for life-saving projects; providing can access clean water, food, training and healthcare to enabling entire third-world communities to be free from hunger.
Viiking Ventures' Managing Director Ben Parmar said: "It's a great honour to be invited to support such a good cause that does so much toward putting an end to child hunger around the globe."
Viiking has set also aside marketing funds to support restaurant promotions such as charity nights, authentic gourmet dining events and the introduction of gluten-free menus.
The company is also looking to support the sector's hard working front of house teams, with a unique 'Brand Ambassador' scheme which will incentivise front line employees at the point of sale, to generate
www.actionagainsthunger.org.uk