20th April 2018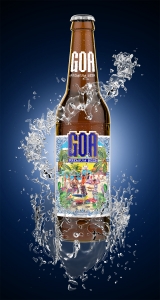 Viiking Ventures UK, the distributor Goa Premium Beer, both owned by Indian playboy Sachiin Joshi, has entered voluntary liquidation with debts of more than £1 million.
Former Vikking Ventures employees, whose salaries were regularly paid late, resigned en masse after Christmas when repeated promises were unfulfilled. Staff claim to be owed 3 months' pay, which appears to be the case according to a formal Statement of Affairs issued by London insolvency practitioners RE10.
The final straw for UK staff came when Joshi tweeted pictures of himself from his luxury villa in Goa. The property, formerly known as Kingfisher Villa, which he bought from creditors of the disgraced beer baron Vijay Mallya. 
Goa Beer, which was brewed by the Impala Distillery & Brewery in Goa, which was acquired in 2015 by Bollywood actor and film producer Sachiin Joshi, was largely sold through curry houses and independent retails.
The gluten-free beer, which was destocked by Booker Wholesale because of poor sales, was beset with production problems.  Customers reported problems of clarity, dirty bottles, poor packaging, and excess CO2 levels, causing the beer to explode on opening.  The company also fell foul of Trading Standards, because on inaccurate labelling.
The liquidation comes after reports in Indian media that Joshi, bounced a cheque to a business partner Raj Kundra in India.
Kundra (husband of Bollywood actress and British reality television series Celebrity Big Brother Shilpa Shetty), has sinced filed a criminal defamation complaint against Joshi and Manoj Ansari, the CMO of Viiking Ventures.
Joshi, owns the Planet Bollywood Hotel in Goa and holds the franchise for Playboy in India.  He has also a number of Bollywood films, including a soft porn flick which he reportedly self-financed, with limited critical success.
A self-proclaimed "successful business" and "serial entrepreneur", Joshi's publicity machine in Mumbai reported that 2017 was his "best year ever" boasting of his private jet, super yacht and a fleet of luxury cars including a Rolls Royce, Bentley, BMW, Lamborghini, Ferrari, Hummer, Mercedes and BMW.
Yet former employees tell a different story of the man who recently closed his operation in Dubai.  His wealth it is claimed is derived from the business empire of his father, Jagdish Joshi.
One former member of Sachiin's team described Joshi as a "spoilt brat, with no leadership skills or business acumen," who would demand everyone cancel their plans for hastily convened meetings in London.  It is reported he would invariably turn up late, ignored the assembled gathering, sitting at the back of the room playing with his mobile, before demotivating the team with criticism and negativity – then fail to fulfil promise to invest in marketing or improved production facilities.
Over Christmas, Viiking Ventures the George Shaw the MD of Viiking Ventures' UK marketing company Avocado visited the brewery in Goa whilst on a family holiday.  Shocked by what he saw and, he resigned the account and issued legal proceedings days before the staff resignations.  Avocado Media's PR arm, Shaw PR, obtained a County Court Judgement against Viiking Ventures for over £10,000 for unpaid fees and expenses.
Since the application for liquidation, a court in India has rejected a discharge application of Sachiin's father, J M Joshi, who is accused of being part of an organised crime syndicate with a view to setting up a gukta manufacturing plant. Gutka is a highly addictive chewing stimulant prepared with crushed areca nut, tobacco, catechu, paraffin wax, slaked lime and flavourings. A known carcinogenic and responsible for oral cancer and other severe negative health effects.