30th May 2019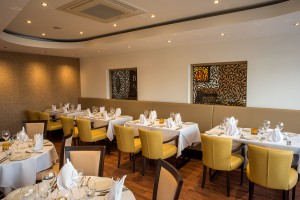 The award-winning Saffron Summer in Chessington, will be serving a special gastronomic 3 course menu, designed by its executive head chef, Awanish Roy, for Father's Day on Sunday 16th June.
Starters offered are:  Corn fed chicken breasts, chilli-cumin marinade, coriander chutney; Kheema Pav, Bombay style lamb mince with peas, cumin pav; Bhatti ka Quail, Stir fried semolina coated prawns in a Mangalore coastal preparation with curry leaves;  Beef Dry Roast, Slow roasted beef in aromatic masala and curry leaves, Kerala parotta; Karwari Fried Fish, Semolina crusted tilapia fillets, curry leaf mayonnaise; or Papdi Chaat, Spiced potato with yoghurt and tamarind on wheat crisps, street food speciality.
Mains are Prawn Pulusu, King prawns in curry leaf and pepper sauce, stir fried greens; Butter Chicken, Tandoori chicken breasts simmered in fresh tomato and fenugreek sauce, truffle malai; Methi Gosht, Punjabi style Elwy Valley lamb curry with fresh fenugreek, chilli and garlic; Dhaniwal Korma, Slow cooked Kashmiri chicken curry with fennel and yoghurt; Shikar ka Kheema, Minced venison and spinach curry, coconut chutney, rice pan cake, hunter's delight; Malai Kofta, Spring vegetables and paneer dumplings, dry fruits stuffing, malai sauce; or Chicken korma, bhuna/tikka masala/madras – all served with butter naan, saffron & cumin Pulao.
Desserts served will be Gulab Jamun, Deep fried milk dumplings in rose flavoured sugar syrup; Pistachio Kulfi; Indian ice lolly on a stick, Ice Cream – Vanilla or Coconut; or  Sorbet,  Lemon or Mango.
The Father's Day menu will cost for £24.95 (£14.95) for children.
www.saffronsummer.co.uk