9th September 2019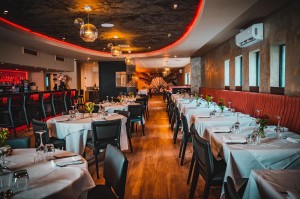 DUSK Restaurant, the new multi-purpose dining and entertainment venue in Brentwood, popular with cast member of 'The Only Way is Essex' (TOWIE) TV show, is to raise money for charity, during National Curry Week (7th to 13th October).
Each year during National Curry Week, since it was founded in 1988 by a journalist, the late Peter Grove, Indian restaurants and spice lovers have raised tens vast sums for good causes at home and abroad.
Rob Pietre-Cambacedes, Kingfisher Beer UK's Brand Manager, said: "We are proud to sponsor this great week which supports the British curry sector and a very worthy charity. It is also designed to create fun for curry lovers and increase awareness and appreciation of the many different cooking styles from countries of the Indian subcontinent."
Throughout the week, DUSK will donate £5 for each curry sold.  Customers are welcome to add their own voluntary contribution.
DUSK will split the proceeds between Curry For Change and a local charity.
"We have yet to decide which local charity to support,"  said DUSK co – owner, Sharif Uddin, "We welcome local good causes getting in touch to help make our decision – we have an open mind."
Since opening this summer DUSK restaurant and shisha lounge, with seating for up to 400 customers, has quickly established itself as one of Essex's top destination venues.  Having featured on 'TOWIE',  DUSK is busy throughout the week and fully booked every weekend – so the amount raise could be significant.
DUSK's award-winning Executive Head Chef Stephen Gomes, whose numerous TV appearances include BBC2's Great British Menu, has designed a unique election of world cuisines, with a choice of fine, casual and private dining experiences with live music and entertainment in the relaxed shisha lounge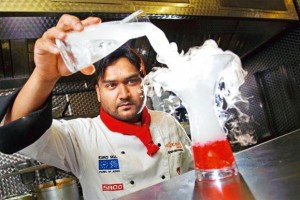 Chef Gomes has designed a special fixed price 3-course menu, for which the restaurant will donate £5 for each one served.
For starters there is a choice of the Great Kebab Factory: Malia Tikka, Chicken Tikka & Lam Pahadi Tikka or the vegan Tofu Mali, Gobu Tikka and Aloo Tikka.
The mains comprise Butter Chicken – the popular tomato and fenugreek Goan curry – which is served with rice and nan; Lamb Railway Curry which was originally served to passengers in India.  Chef Gomes's lamb shank is smoked with cinnamon in a jar, served with pilau rice and naan; or an exquiste Vegetarian Makhani.
The pudding there will be Halawa – a delicious carrot cake with vanilla ice cream.
The sumptuous 3-course feast costs £45, but will be discounted to just £35 from Sunday to Wednesday.
Curry for Change is a month-long campaign in October, coordinated by the Find Your Feet and Health Poverty Action charities.  It raises tens of thousands of pounds to tackle hunger and poverty across Asia and Africa. It is supported by celebrity chefs, top restaurant and dedicated members of the public.
Jessica Doyle, spokesperson for Curry for Change, commented: "We're delighted to welcome DUSK and its guests to the Curry for Change family. Everything raised enables us to help more vulnerable families to grow enough food so they don't go hungry and provide an income for their family.
DUSK Restaurant does not sell alcohol, but there is no corkage charged for customers who bring their own, including Kingfisher Beer. The restaurant stocks the UK's largest range of zero percent beers, wines and also serves exquisite mocktails.
DUSK co-owner Shakil Islam said: "Worldwide, a reported one in nine people around the world going to bed hungry each night. Food is a great way of bringing people together.  By supporting Curry for Change, you get to enjoy Essex's top fine dining experience, whilst supporting vulnerable families who suffer from hunger."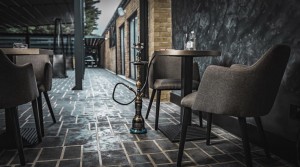 DUSK is now taking bookings for Christmas parties in its main dining room or private function Rose Room overlooking Bentley Golf Course, with seating for up to 120.  For companies that are too busy to celebrate in the run up to Christmas, special Christmas party menus will be available to pre order from 14th December until 14th January.  The restaurant be open on Christmas and Boxing Day.  A full list of Christmas events with details of DJs, live entertainment and menus is available at www.duskbrentwood.co.uk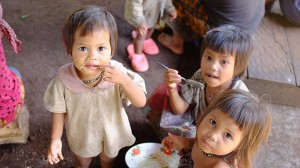 DUSK, Ongar Road, Brentwood Essex CM15 9SS
T: 01277 424 987  enquiries@duskbrentwood.co.uk