14th May 2017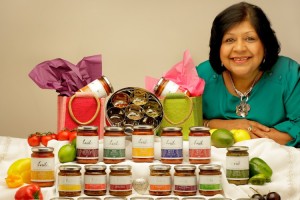 "Curry sauce queen" Anila Vaghela is celebrating serving more than two million meals to customers, after marking a quarter of a century making fine food.  The founder of Anila's Authentic Sauces has served an amazing 2,168,000 meals through her range of eight curry sauces since her first sale at a fair in Weybridge, Surrey in 1992. She has also provided more than three million servings of chutneys and pickles from her range of 16 accompaniments.
"We've come a long way from our very first fair and now supply food halls, health food stores, garden centres and farm shops, including Harrods, John Lewis and Chatsworth," said Anila, who exports to France, Ireland, Hong Kong and Portugal.
"When I first had the idea to create the curry sauces, Indian food wasn't as popular as it is today and I was one of the pioneering artisan producers making Indian cooking sauces using traditional family recipes. That's very much the philosophy that we have stuck to over the past 25 years – creating tasty, healthy, curry sauces in small batches using only fresh ingredients."
Growing up as the eldest child and grandchild in the family, Anila learnt to cook alongside her mother, grandmother and great grandmother in Zimbabwe where she was born.
Years later, as a busy mum living mum, Anila started to make small batches of curry sauces for convenience. She began selling jars of curry sauce on a very small scale in her local community, and at her first fair in Weybridge in 1992 all 80 jars were snapped up.
In 1997, aged 40, she was made redundant from her job as a PA and opted to launch Anila's Authentic Sauces as a full-time business. Initially working from her home kitchen producing four varieties of curry sauces, she later began production from a catering kitchen in Surbiton and then relocated to a unit in Hounslow, with husband Dan who left his job to join the business. She gradually increased the range and now has eight curry sauces and sixteen pickles and chutneys.
Anila who also runs Vegetarian Indian cookery classes has won numerous Great Taste Awards, including the Best Speciality Award for the South East and FREE-FROM Food Awards.
The sauces are suitable for vegans and coeliacs. They are sugar, dairy and gluten free, contain no onion or garlic, and are free from artificial colours, additives and preservatives.