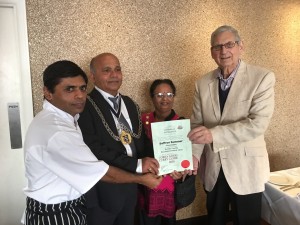 Thirty guests including Kingston Mayor Thay Thayala and his wife Lata, the Lady Mayor, journalists, food bloggers, local business leaders attending a special lunch at Saffron Summer Indian restaurant in Chessington on Thursday 11th October. Guests enjoyed a feast of authentic Indian haute cuisine, which has seen the restaurant ranked number one Indian in Surrey on the Trip Advisor reviews website, where it currently stands in the top three of all dining establishments, regardless of cuisine.
During the lunch, Chef Awanish Roy received a Certificate of Excellence from Cobra Good Curry Guide editor Pat Chapman.
Following the lunch Chapman wrote: "You won't find better Indian food anywhere. Prices are notably reasonable, it being Chessington not Chelsea; it is a delight to get West End quality at suburban prices".
Awanish Roy, the Executive chef at the 60 seat Saffron Summer, spent eight years at London's highly acclaimed Cinnamon Club and a few more years at Roti Chi and Chai Ki. Before that he underwent his training and apprenticeship with India's prestigious family-run business, the Oberoi Luxury Hotel group, the portfolio of which includes thirty-five of the finest hotels across India and abroad.
Pat Chapman has been called "the ambassador of Indian Food" by the late Derek Cooper, "the Curry Leader" by Fay Maschler and "a missionary seeking converts to curry" by Loyd Grossman. Daily Telegraph's Max Davidson said of him: "Chapman is to curry, what God is to the Old Testament"!!!
Saffron Summer has also been shortlisted for a prestigious Asian Curry Award, of which Pat Chapman is chairman of judges, where the winners will be revealed at a glittering, star-studded gala dinner at Grosvenor House in Mayfair on Sunday 18th November.
During the VIP lunch, Saffron Summer announced that it is to host a fund raising three-course gourmet dinner on Monday 22nd October costing £24.95, which £5 will be donated for Health Poverty Action Charity's Curry for Change campaign.
Chef Awanish Roy, who previously worked at the world-renowned Cinnamon Club in Westminster has also introduced a 'Kebab, Biryani and Street Food Feast' every Wednesday, priced at just £14.95 per head.
On Mondays and Tuesday evenings, Saffron Summer will also offer a similarly priced special 2-course meal, accompanied by rice or naan and a drink.
"I want to help educate locals to the delights of authentic Indian food and demonstrate that there's more to the cuisine than just that typical curry house favourites," said Roy, adding, "These new menus allow people to sample fine Indian dining, without having to travel to London's expensive gourmet Indian venues."
During the presentation, Pat Chapman, said: "As much as I enjoy a good curry, there is very much more depth of variety to one of the world's great cuisines, than many people are aware. Saffron Summer is serving some of the best, authentic regional Indian dishes you will find anywhere."
Indian born Chapman, has written 34 books, with international sales topping 1.5 million copies.  Many are on Indian curry, Pat also writes on Chinese, Thai, Middle Eastern, and all other spicy foods.  His Balti Cookbook was the first on the subject and became a Sunday Times Number 1 best seller. 
The Sri Lankan born Mayor and Lady Mayoress were much impressed with Roy's cooking and another guest, Frank Sequeira, a former director of the Kingfisher and Goa Beer Indian breweries, said, "The Wild boar vindaloo is the real deal. I would normally have to return to my original home in Goa for this dish, which bears no relation to the ubiquitous fiery chicken and potato version served in the UK.