17th May 2017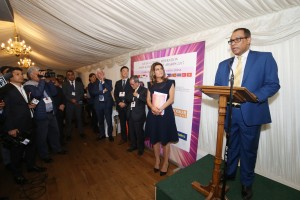 The ACF invited the curry chefs to a special presentation ceremony, hosted by TV presenter Samantha Simonds.   The top chefs were determined by public vote, which was topped by Alun Sperring of Chilli Pickle; Will Bowlby of Kricket and Karam Sethi of Hoppers.
Held in the Terrace Pavilion of the Palace of Westminster, the chefs feted on Monday were: Luthfur Ahmed, Bengal Brasserie, Belfast;   Rafique Ali, Bokhara Bangor, Belfast; Harneet Baweja,  Gunpowder, London; Vineet Bhatia, Vineet Bhatia, London; Ahad Nur, Millennium Balti, Leamington Spa; Sham Alom, Rumi's, Beverley; Dev Banda, Everest Inn, Grantham; Rik Campbell, Kricket, London; Stephen Gomes, Moksh, Cardiff; Imran Hussain, Shapla, Donegal;Atul Kochhar, Benares, London; Shah Faysol Miah, Bangla Bangor; Abdul Majid; Palash Mitra, Gymkhana, London; Abul Monsur, Taj Cuisine, Chatham; Jiwan Lal, Babur, London; Shanker Pandey, Everest Inn, Ashford, Kent; Rafaqat Saleem,   Royal Nawaab, Manchester;  Karam Sethi, Hoppers, London; Kaori Simpson, Harajuku  Kitchen, Edinburgh; Muhammad Shoaib, Royal Nawaab, London;   Abdul Sobur, Zafran, Southend;   Alun Sperring, Chilli Pickle, Brighton;  Sameer Taneja, Talli Joe, London; Cyrus Todiwala, Café Spice Namaste, London; Jeff Tyler, Novikov, London; Yoong Cheong Wong, Rasa Sayang, London; Abdul Kadir, Grand Sultan, Port Talbot; Chad Rahman, Chez Mumtaj, St Albans; and Mahamud Zaman,  Zaman International Cuisine, London;
The evening was attending by an impressive array of VIPs and dignitaries including the High Commissioners of Bangladesh and Nepal, Lord and Lady Sheikh.
A panel of judges led by the Cobra Good Curry Guide editor Pat Chapman, will now visit these venues.  Two overall winners (one casual, one fine, dining) will be announced at the November ceremony, along with other national and regional awards.  The full list of categories can be seen, and online nominations made, at  www.asiancurryawards.com.nominations
The 7th Asian Curry Awards will take place at the Grosvenor House Hotel in Mayfair on Sunday 12th November 2017.