10th July 2018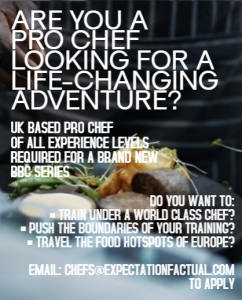 The BBC has commissioned "a new type" of TV documentary series –  a cooking programme designed to reach "a whole new audience." The producers are looking for all levels of professional chefs and cooks to take part in a European road trip, working under a high-profile head chef to learn regional cooking and up their skills.
The programme makers are inviting applications from chefs from different culinary backgrounds and walks of life.
The series will be driven by the desire to "combine quality, popularity and sensitivity" and is seeking chefs who want to hone their craft, push themselves and experience a once in a lifetime adventure.
To apply email: geo@avocadomedia.co.uk