Booker cleaning solution for ACF and FoBC members


Booker Wholesale offers a new cleaning service to ACF and FoBC members.
The CleanPro Plus is a comprehensive hygiene manual
- Record Cards to ensure compliance with current hygiene legislation.
- Wallcharts which give detailed explanations and diagrams of product dosing and specific equipment required for each area.
- Safety Data Sheets are included for all products.
- A comprehensive, printed hygiene manual can be supplied on request.
SPECIAL OFFER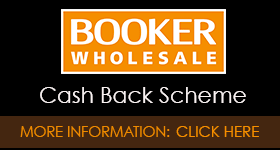 To see all products and services, please visit
www.booker.co.uk


call: 0208 647 8036
---

call: 0800 085 3761
---
Asian Catering Newsletter
Register to our newsletter to receive all the latest news.