The Committee
The ACF strives to help our members in building customer loyalty, finding financial success, campaign for recognition and provide rewarding careers in the industry.
People Involved:
Yawar Khan

Chairman The Federation of Bangladeshi Caterers (FoBC)
Chairman Asian Curry Awards
Co-chairman Asian Catering Federation

The Federation's visionary chairman Yawar Khan has lived in the UK since 1973. He is an eminent business personality and restaurateur of the famous Akash Tandoori Restaurant in Wallington, Surrey.

After his arrival in the UK from Bangladesh, Yawar Khan studied at Swindon College, working at weekends in a local restaurant. In late 1975 he joined the Taj Mahal restaurant owned by his father, also gaining a Business Diploma from Westminster College in London. In 1977 he was able to open his own establishment in Wallington which is now one of the longest established and most successful Bangladeshi restaurants in the area.

He works tirelessly to further the interests of the Asian catering sector, to aid the community and the country of his birth. He is actively involved in a formidable number of business and charitable organisations including the Bangladesh Welfare Association, the Rotary Club, the Federation of Small Business, Sutton Chamber of Commerce as well as being a member of Bangladesh British Chamber of Commerce UK and of the Greater Sylhet Development and Welfare Council UK.

Mr Khan founded the Federation with the aim of uniting the whole of the Asian catering business. He is also the founder of Asian Food Awards and Asian Curry Awards, both prestigious events held annually.

He is a father of a successful family with 4 lovely children. The first daughter pursues her career as financial lawyer, the second one works as doctor in Cambridge, the third studies at University College of London in Business and the younger daughter prepares GCSE at Grammar School.

Thomas Chan DL

Representative Deputy Lieutenant for the London Borough of Redbridge
Chairman Chairman Chinese Takeaway Association
Co-chairman Asian Catering Federation
Chief adviser Asian Curry Awards / AFA

Thomas Chan has led, over the years, many campaigns on issues affecting the Chinese catering sector and the wider Chinese community in the UK.
Working in partnership with the Chinese National Healthy Living Centre, the Chinese Takeaway Association (UK) launched the "Healthier Chinese Takeaway Menu Project". The project was funded by the British Heart Foundation and other public sector bodies. Training seminars were held in London, Birmingham, Manchester and Belfast, highlighting the basic principles of good nutrition, the importance of choice of cooking methods and the selection of ingredients and awareness of how food and exercise can contribute to the prevention of heart disease.

Qualified nutritionists and celebrity chef Nancy Lam were there to introduce alternative and healthier ways of preparing popular Chinese dishes. As a follow up to the initiative, a healthy cook book titled Fresh Chinese was published. It was written by nutrition consultant, Wynnie Chan with a foreword by celebrity chef Ken Hom. The book brings a feast of over 80 mouth watering recipes to its readers so they would not pile on the pounds whilst cooking consuming delicious Chinese food.

Thomas has worked with the Chinese community in Britain for more than 30 years. He has been involved in the setting up of different Chinese community centres in London and the London Chinese Health Resource Centre (now Chinese National Healthy Living Centre). Over the years he has undertook researches into the needs of Chinese people with disabilities in London, older people in Belfast and Chinese community in mid Scotland. He is a qualified food safety trainer and business support consultant.
He was first elected to the London Borough of Redbridge in 1990. He returned to local politics in 2006 and has held different Cabinet positions. He was Mayor of Redbridge Council in 2009/10.

Teddy Chen

Chairman Malaysian restaurant association
Co-chairman Asian Catering Federation
Advisor Asian Curry Awards / AFA

2006 saw Teddy K C Chen embarked on his new enterprise – entrepreneur and restaurateur. Today Teddy K C Chen's restaurant empire takes the best of south-east asian culinary delicacies and places them in some of London's most talked about south-east asian eateries. From freshly hand-pulled noodles to one of London's most talked Malaysian delights, Teddy K C Chen has London's taste buds covered.

However, this blossoming restaurateur did not start off chasing the tasty treats of the hawker stalls in Malaysia. Teddy K C Chen started his career in the 70's working as a technician in various business sectors before landing a career in the 80's at the height of rock and roll – the music industry. Having started out being the only Malaysian Chinese staff member at EMI Records, his charisma and his likeability shot him to become the International Affairs Manager, entertaining the likes of Sir Cliff Richard, Queen, Duran Duran, Sir Paul McCartney, Olivia Newton-John, Sheena Easton and Kate Bush. From EMI Records, Teddy K C Chen ventured on to new challenges – trading and property development.
This stint in property development armed him with the experience and business acumen skill set to embark on his 7 year restaurant empire. With his love of good home cooked Malaysian food coupled with his instant sparkling personality, the once young humble bartender has shot to food industry fame to bring mouth watering delights of the Malaysian straits to the West.
SPECIAL OFFER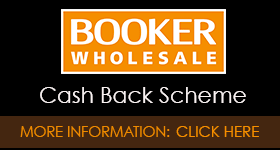 To see all products and services, please visit
www.booker.co.uk


call: 0208 647 8036
---

call: 0800 085 3761
---
Asian Catering Newsletter
Register to our newsletter to receive all the latest news.